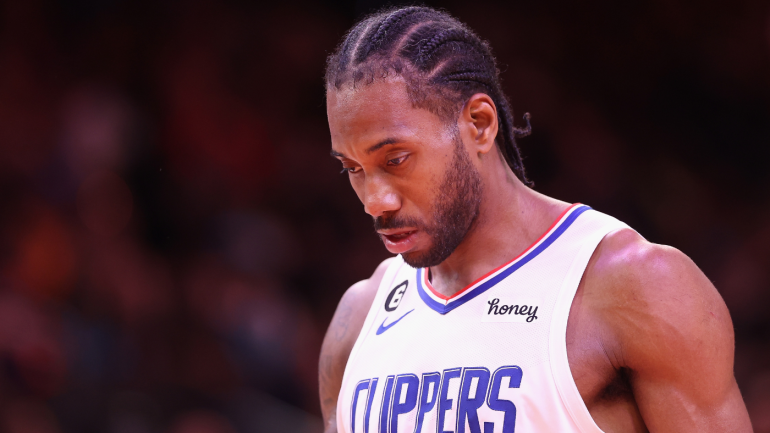 Kawhi Leonard is on pace to be ready for the start of training camp, Los Angeles Clippers coach Tyronn Lue told the media on Sunday during a conversation with reporters in Las Vegas, where he's working with Team USA ahead of the 2023 FIBA World Cup later this month.
After two spectacular performances in Games 1 and 2 against the Phoenix Suns in the team's first-round playoff series against the Phoenix Suns last season, Leonard was ruled out with a knee injury that was later revealed to be a torn meniscus. He did not play in the final three games of the series, and the Clippers lost all three en route to a five-game defeat.
In June, Clippers president of basketball operations Lawrence Frank announced that Leonard had undergone a procedure on his knee.
"Just a cleanup, went terrific," Frank said after the 2023 NBA Draft. "Very quick procedure. He feels great. Eight-week recovery from time of surgery where you are back on the court playing like it was a game. We are very fortunate that it was just a quick little cleanup."
That timeline suggested that Leonard would be ready for the start of the season, and now Lue has confirmed that not only will his star forward be ready for opening night, he'll be in action for training camp. That is terrific news for a Clippers team that has been besieged by injuries in recent seasons.
Since Leonard signed with the Clippers in free agency in 2019, he has played in 161 of a possible 308 regular season games and suffered season-ending injuries in both the 2021 and 2023 playoffs. Meanwhile, Paul George, who also joined in 2019, has played just 189 regular season games in that time.
As a result, the Clippers' performances have fallen well short of expectations. They made the Western Conference finals in 2021, but have won just three total playoff series with that duo and also blew a 3-1 lead to the Denver Nuggets in the second round in 2020 when both of them were actually healthy.
Both Leonard and George possess player options for the 2024-25 season, and could opt out to become free agents next summer. There's a real possibility that this is the last go-around for this group, which makes it imperative that they remain healthy. Leonard and George both being ready for training camp will be a good start on that front, but whether they can both make it through an entire playoff run is the key question.