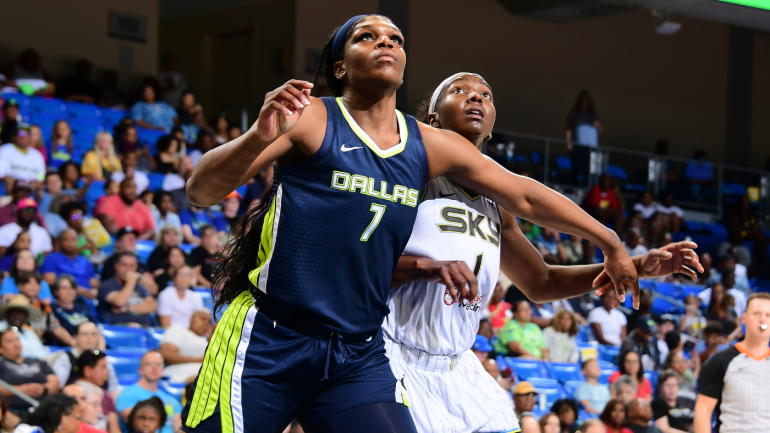 The Dallas Mavericks and Dallas Wings announced a historic partnership Sunday afternoon that would make the Mavericks the jersey sponsor for the Wings. The deal makes the Wings the first team in the WNBA to agree to a jersey sponsorship with an NBA team.
The jersey patch will feature the Mavericks logo, as well as the "Girls Empowered by Mavericks" or GEM logo, which is a program created by the NBA team. The program was created to "inspire and empower young females through the use of physical activity as a backdrop to their development and success," per the team's joint statement.
"The Mavericks have worked hard to build the best youth-focused programming in the NBA," Wings President & CEO Greg Bibb said in the team's statement. "We are incredibly proud to partner with their organization to extend and expand the GEM program's reach throughout North Texas. We are grateful to Cynt Marshall, Mark Cuban and the Mavericks leadership for their commitment to this innovative sponsorship and we look forward to working with them to empower girls through the sport of basketball."
The logo will begin to appear on the Wings jerseys as early as the team's Sunday afternoon game against the Chicago Sky.
"The Dallas Mavericks are proud to work alongside our local WNBA team, the Dallas Wings, to further the empowerment of young girls in North Texas," Mavericks CEO Cynt Marshall said. "We see GEM participants as the talent pool to represent future women in sports, business and other careers, and we are emboldened to move the needle towards female representation and equality."
In addition to the jersey sponsorship, players and coaches on the Wings will also take part in GEM programs which includes basketball camps to help girls across North Texas.
With the Wings becoming the first team in the W to receive a jersey sponsorship from an NBA team, it could open the door for more partnerships like this in the future.