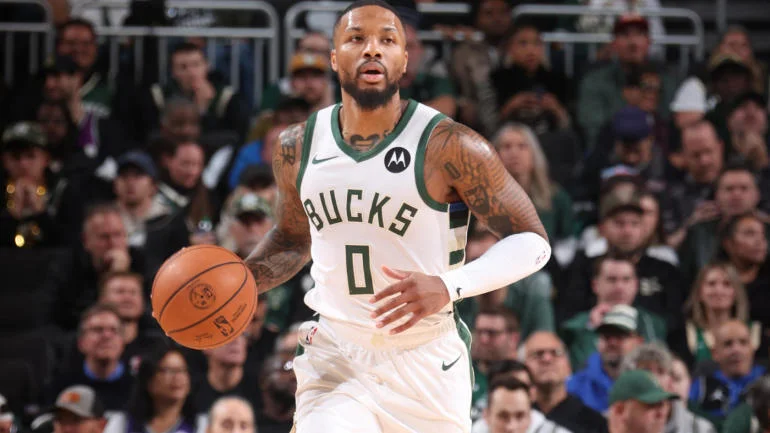 MILWAUKEE — Damian Lillard had one of the worst games of his career on Sunday in the Milwaukee Bucks' 127-110 loss to the Atlanta Hawks, finishing with six points and six turnovers on 2-of-12 shooting. The good news is he'll have to wait less than 24 hours to take the court again when the Bucks square off against the Miami Heat.
That is, of course, a loaded matchup for Lillard, who requested a trade to the Heat during the offseason, but was instead dealt to the Bucks in a blockbuster deal, ending his 11-year run with the Portland Trail Blazers. The veteran guard insisted, however, that despite his hectic summer and friendship with Jimmy Butler and Bam Adebayo, it will be just another game.
"I've never played on their team," Lillard said. "I mentioned that [it] was the destination for me when I asked to be traded last year, but I was traded here. I'm excited to be here, I'm happy to be here, I fit in great here. For me, personally, that was the end of it. I never thought about it again after that.
"So I'm not going into [tonight] like 'this the team that I was supposed to be playing for' or none of that. I know Jimmy, I know Bam, we're cool, but I play for the Bucks. I'm not going into it like 'that's my former team' or 'we was tied in' or nothing like that. It's another game."
At the morning shootaround, Heat head coach Erik Spoelstra likewise downplayed the idea that his team would have any sort of extra motivation on Monday after everything that happened during the offseason.
"It's beyond all that," Spoelstra said. "It's more about respect for Milwaukee and the battles we've had. It's great competition in this building and it's always a challenge, and they're coming off a tough loss last night. Our guys love to compete, they love to compete against other really good teams. We expect it to be a tough battle."
As for Lillard's relationship with the Heat and star plays such as Butler and Adebayo, he emphasized that they didn't have much contact throughout the trade process this summer.
"On the outside people made more of it than what was taking place," Lillard explained. "It's not like I was calling him every day or nothing like that. I said what I needed to say to the team that I was on at that time, and I went on about my time. I did my training, I spent time with my kids, and that was it. I'm telling you the real when I say it's not that deep. Bam was my boy before I asked for a trade. He still is, and that was the extent of it."
Speaking of Adebayo, he will not play due to a hip injury sustained in the Heat's loss to the Minnesota Timberwolves on Saturday. "He just went through his warm-up and routine and does not have enough movement," Spoelstra said pre-game. "We'll give him a bunch of treatment and see what happens when we get back to Miami."
The Bucks and Heat will tip-off at 8 p.m. ET on Monday on League Pass. Lillard will be looking to bounce back after setting a record for the biggest point differential between a first and second game with a new team in NBA history: 33 points. He had 39 points in an opening night win over the Philadelphia 76ers before scoring just six against the Hawks.