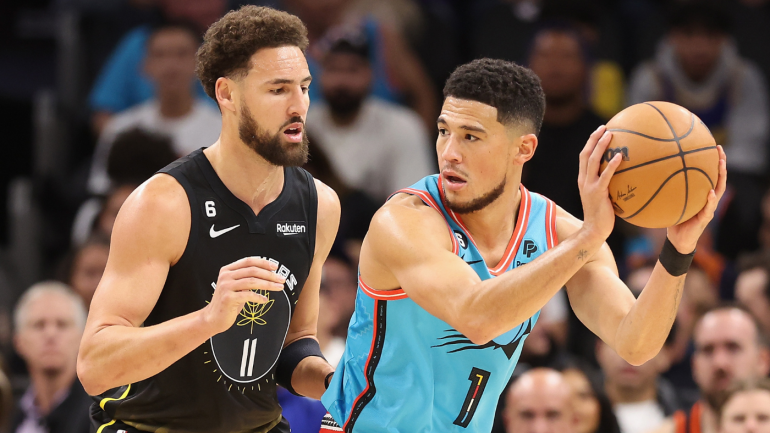 Golden State Warriors forward Klay Thompson is the latest player to sit down with Los Angeles Clippers star Paul George on his podcast, "Podcast P." During his appearance, Thompson admitted that he regrets taunting Devin Booker during a loss to the Phoenix Suns last season.
The Oct. 25 match-up was just the fourth game of the season for both clubs, but it had a playoff-like atmosphere. In the third quarter, Thompson started jawing with Booker, repeatedly reminding him that he had four championships to his name. The two eventually came face-to-face, which resulted in double technicals. A few minutes later, Thompson received another technical for shoving Mikal Bridges, which earned him the first ejection of his career.
While the game was close when Thompson was ejected, the Suns later pulled away for a 134-105 win. Thompson finished with two points on 1-of-8 from the field, and was soundly outplayed by Booker, who finished with 34 points and seven assists.
"Yeah, I was in my feelings though and Book was busting my ass that day," Thompson told George. "I was not where I needed to be. God. You know stuff doesn't age well and that didn't age well for me. I don't need to be flexing four rings, bro, like everybody know that. That's on Wikipedia. My game wasn't where it was at and we all get insecure at times.
"I'm man enough to admit that we all have our moments of weakness. I'm not really proud of that one. Cause I see Devin Booker and I should be like, man, I should be proud of this young man. The work he's put in. He survived a tough regime in Phoenix where everyone getting traded, he's playing for a new coach every year but now he's a franchise player cause he just kept working. So, I admire the guys who have work ethic like that, you know?"
Good chance you won't see Klay flexing his 4 rings to opponents again 😂 pic.twitter.com/xOXLGZqfW6
— Podcast P with Paul George (@PodcastPShow) August 7, 2023
The respect is mutual. After that game, Booker said that the exchange didn't change his attitude towards Thompson.
"I love Klay Thompson," Booker said. "I have from the beginning. From the draft, coming out, I said I wanted to be Klay Thompson. That doesn't excuse us from competing against each other and talking a little mess with each other. I had fun with it. Big fan of his and his competitive nature, and that's that."
As Booker's quote from the moment shows, this incident wasn't a big deal. Still, it was pretty cool to see Thompson being this candid in an interview and admit that he wasn't proud of how he handled that moment. We usually don't see that from players, especially while they're still active.