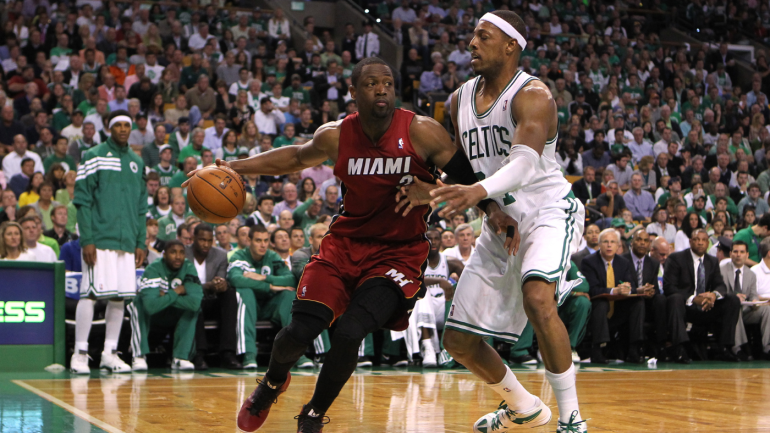 Last month, Paul Pierce tried to argue once again that his NBA career was better than Dwyane Wade's — a debate he has been trying to have since at least 2019. However, Wade said he is perfectly content with all the attention he is getting.
"Listen, rent is expensive in America, and I'm living rent free right now," Wade said in an episode of the Dan Le Batard Show with Stugotz. "So let him keep—I like living rent free."
"Rent is expensive and I'm living rent free…it's documented, I don't need to say anything…I went and got my Avengers…"
@DwyaneWade finally responds to Paul Pierce's comments on who in fact had the better career. 😂 #HeatCulture
📺 https://t.co/UYp07snQ73
🎙️… pic.twitter.com/RPBRaP5gv3
— Dan Le Batard Show with Stugotz (@LeBatardShow) August 8, 2023
Pierce, inducted into the Naismith Memorial Basketball Hall of Fame in 2021, won an NBA championship with the Boston Celtics in 2008 and was named the Finals MVP. The 10-time All-Star had a great career, but many feel that him saying he was better than Wade is quite the stretch.
Wade, who is set to be inducted into the Hall of Fame on Aug. 12, said he doesn't feel the need to defend himself. He was a 13-time All-Star and won three NBA championships with the Miami Heat, but now he sees no point in arguing when he is not even playing anymore.
"It's documented," Wade said. "I don't need to say anything. Everything is documented. So, I'll let you guys go ahead and talk about all that stuff. It sounds better coming from y'all than me."
"I'm done playing the game of basketball. I'm not comparing myself to someone who's not playing the game, or who is playing the game."
Pierce had made the argument that he could've had more achievements if he had had better teammates, such as the ones Wade had.
"Put Shaq (O'Neal) on my team. Put LeBron (James) and (Chris) Bosh with me. I'm not gonna win one?" Pierce said last month on an episode of Cam'Ron's talkshow, It Is What It Is. "Put me, LeBron and Bosh… we not gonna win a couple?"
Wade said people were mad he was was able to get with his "Avengers" but pointed out that it's not always easy to play with different stars because of their different styles of play. At the end of the day, he wouldn't change anything and doesn't care what others think.
"I'm happy with my career. I don't know who's not happy with theirs, but I'm sorry if you're not. But I'm happy with the way mine went," Wade said.