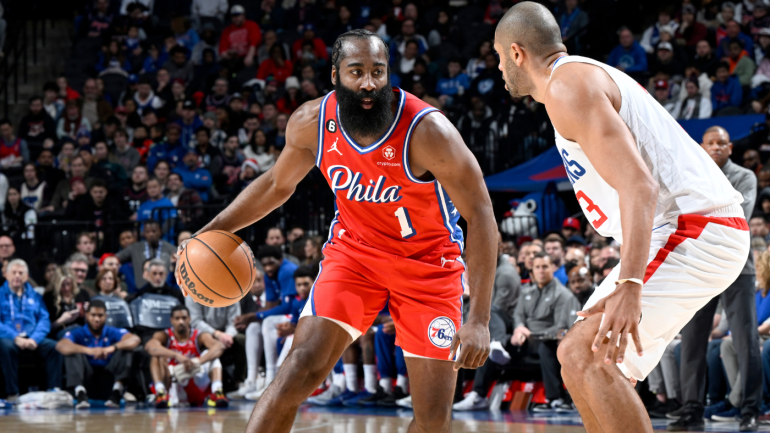 We've reached the slowest point on the NBA calendar, where news has come to a near standstill and everyone is counting down the days until training camp begins in September. However, with two major trade demands still hanging over the league and some unsigned free agents still on the market, there is still something to talk about.
Both James Harden and Damian Lillard remain unmoved after both requested trades from their current teams earlier this summer. And while nothing appears to be imminent, that hasn't stopped the rumors from circulating. Here's the latest on both stars situations, as well as another potential trade involving the Toronto Raptors.
Clippers, 76ers to reengage in Harden trade talks
Harden's been intent on getting out of Philadelphia and landing on his hometown Los Angeles Clippers team. The feeling is mutual for the Clippers, but the Sixers have been in no rush to trade their All-Star guard if the price isn't right. After talks cooled off over the last month, The Athletic's Shams Charania reports that the two sides are expected to begin trade talks again involving the former league MVP. It's unclear what Philadelphia could get in return for Harden, but when the two sides talked earlier about a trade package the Clippers were unwilling to give up younger players like Terance Mann or serious draft capital for the aging guard.
If the Clippers don't want to give up too much for Harden, there's the potential that this deal would need to include a third team to get the Sixers what they want in return for him. Multi-team deals are tricky, but if L.A. is really enamored with the idea of bringing Harden in, then it's something that could happen.
Raptors turned down Hawks trade offer for Pascal Siakam
Toronto has been in the midst of this will-they-won't-they saga involving a rebuild for quite some time. They lost Fred VanVleet for nothing this summer, signaling that they could look to trade other core players like Siakam, OG Anunoby and Gary Trent Jr. However, we're a little over a month from training camp and the Raptors have done nothing to suggest they're going down the full fire sale path. But that doesn't mean they're not keeping their options open.
The Atlanta Hawks reportedly offered a trade package involving De'Andre Hunter, AJ Griffin and draft compensation to Toronto for Siakam, per Charania, but the Raptors keep increasing the asking price for the All-Star forward. Siakam enters the last year of his contract, and is extension eligible. But it's been reported that he won't sign an extension with any team that trades for him, and would instead become an unrestricted free agent next summer. Charania reports that talks between the Raptors and Hawks have been put on pause, and that despite Atlanta's interest, Siakam could very well remain in Toronto through this season.
Trail Blazers no closer to trading Lillard
Lillard is still adamant that he wants to play for the Miami Heat and no one else. The Blazers still don't like what Miami has to offer, so for right now the two sides haven't gotten any closer to a trade, per Charania. That could change as we get closer to training camp, because certainly no one wants to deal with the awkwardness of a trade demand, but for right now, Lillard is still a member of the Blazers. Perhaps the Heat can manage to get a third team involved to get the deal done, because it's been clear that the Blazers have little interest in a package centered around Tyler Herro for their franchise centerpiece of over a decade.