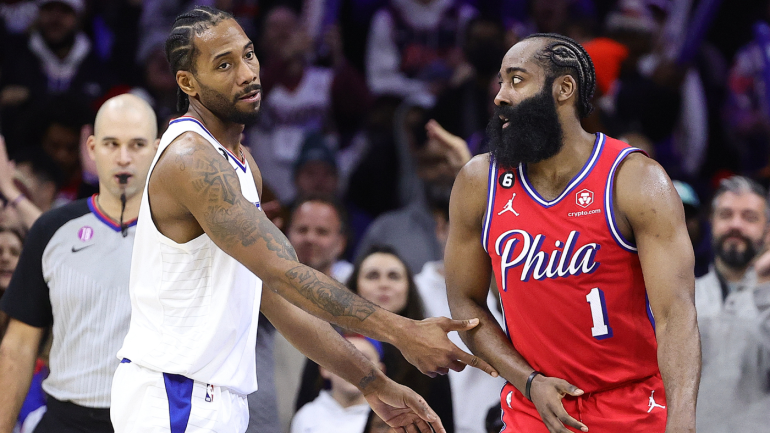 I live in Florida. I know all about high-priced insurance policies that are only going to get more expensive in the coming years. The Los Angeles Clippers, who just traded for James Harden, are about to feel my pain.
A proven bad fit with Russell Westbrook (who has been pretty great with the Clippers, thus making Harden even less necessary), and largely redundant alongside Kawhi Leonard and Paul George as yet another iso-heavy scorer only with basically zero catch-and-shoot appetite, Harden's greatest value to the Clippers is the short-term insurance he provides against Leonard and/or George getting injured.
That's not nothing. Unlike my silly Florida insurance, with which I've yet to file a single claim in eight years of home ownership, Harden is a good bet to be worth at least some of the premium the Clippers just paid to get him as George and Leonard, if history has shown us anything, are likely to go down at some point.
In the past, the Clippers' offense has fallen off precipitously without Leonard, and gone completely in the tank without both Leonard and George. Harden, in theory, can at least captain the dinghy while the big ship gets fixed.
But in the treacherous Western Conference waters, you can't survive in a dinghy for long. If Leonard and/or George is out for any substantial length of time, let alone in the playoffs, the Clippers are sunk anyway. So again, the insurance is really only short term.
In the long term, it's hard to see Harden being worth more than everything the Clippers gave up to get him. Frankly, I think PJ Tucker, who also comes to L.A. in the deal, is arguably a more valuable piece, but not at the expense of two versatile wings in Robert Covington and Nic Batum.
Throw in the pick swap the Clippers sent to Philadelphia, the 2027 pick swap with OKC — plus their own 2028 first-round pick, which could end up being very precious as this already-old team totally ages out — and to me, there's no way Harden improves the Clippers enough to justify the various costs.
And the thing is, Harden is only going to get more expensive. After giving all this up, there's almost no way the Clippers don't re-sign Harden to a long-term deal this summer. And if you're going to re-sign Harden, it only makes sense to then also re-sign Leonard and George, both of whom (player options) are almost sure to become free agents.
Leonard is 32. George 33. Harden 34. Which means the Clippers just signed up for three long-term deals that are probably going to start depreciating like a clunky car. Gone is the option to trade George and/or Leonard and start over with cap space, the 2027 pick they just swapped with OKC and the 2028 pick they sent to Philly.
By the end of this, the Clippers are going to end up paying well north of $100 million, before tax penalties, plus any near-future draft or cap-sheet flexibility they might've had, for a player that arguably doesn't make them better in any meaningful way.
Again, what is Harden's value as an off-ball player next to Leonard, who is going to have the ball when it counts? He doesn't move. He doesn't catch and shoot. The Clippers could use some juice to their pace, but Harden plays like a slug. His defense is obviously atrocious.
The one elite skill Harden still possesses is his playmaking, and that will help Leonard and George to not have to create quite so much in isolation. The Clippers can put a lot of shooters around Harden, which is the best way to get the best of him.
But all that requires letting him control the ball, and you can't justify consistently giving him that opportunity when the Clippers already operate at an elite offensive level with both Leonard and George on the court.
In the end, while Harden will allow for Leonard and George to play fewer regular-season minutes while also providing the short-term injury insurance, when it comes down to actually winning a championship, which is the only way all of this becomes cost effective for the Clippers, he just doesn't raise the ceiling of this team enough.
Honestly, at full strength, I'm not sure he raises it at all. Like the Sixers, who were a second-round playoff team with Harden same as they were without him, I believe that however far the Clippers end up going this year or any year with Harden on the roster, they would've gone without him anyway.