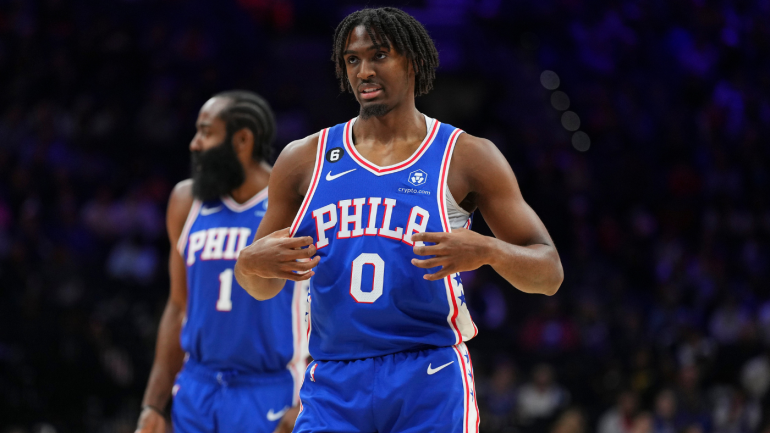 Just as he did with Ben Simmons, Daryl Morey waited, and waited, and waited, for the right James Harden trade package to show up. It happened late Monday night, or early Tuesday morning depending on where you live, when the Clippers sent Robert Covington, Nic Batum, Marcus Morris, KJ Martin, their unprotected 2028 first-round pick (plus a 2026 first-round pick from OKC), and two future second-round picks to the 76ers in exhange for Harden, PJ Tucker and Filip Petrusev.
I'm going to tell you right now, the Sixers just became a better team without Harden than they were with him, if only because Tyrese Maxey is about to officially explode with Harden out of the way. This was an addition-by-subtraction move for the Sixers even without the awesome package they got back, which is now primed to be repackaged and shipped elsewhere should Morey want to put the pedal down on this season.
He may choose to stand pat. The Sixers are now positioned, if they drop everyone but Maxey and Joel Embiid, to have more cap space than any team on the market next summer. Perhaps Morey won't want long-term money coming back this year.
Then again, next summer's free-agent class isn't star studded. Should the Raptors show interest in dancing for impending free agent OG Anunoby, that would be very intriguing for a Sixers team that still feels just one right piece away from real contention given how good Maxey has looked in Harden's place.
Through three games, Maxey is averaging better than 30 points, six assists and six rebounds, He's making half the shots he takes, including a 58% clip on over eight 3-point attempts per game.
He's been insanely good, and he's juicing the typically stagnant Sixers' offense as Nick Nurse has replaced the paint-drying Harden probes and pick and rolls with more cuts and dribble handoffs with Maxey running a free-flowing system that is involving everyone and moving quickly.
Less a week ago, after Maxey picked apart the Bucks on opening night, I wrote the following:
If Morey wants to free his team of the drama and let it move forward with a fair chance of competing with a clear head, there's a legitimate addition-by-subtraction case to be made here. Harden is still good, but he's not doing anything anymore, for the most part, that is irreplaceable. He's surely not the only point guard in the NBA who can score 20 points a night or drag defenders with him and hit a roller or kick to a shooter.
Hell, even at his peak, Harden was never as good a 3-point shooter as Maxey, and he has never offered anything close to Maxey's full-court, straight-line, or even corner-turning speed.
Against Milwaukee, Maxey put up 31 points and eight assists. He didn't commit a single turnover. He made three 3-pointers and got to the free-throw line 10 times. He lived in the paint. Drew defenders and dropped short-roll passes to Joel Embiid. Created an ocean of space on his step-backs.
Nobody is saying Maxey is, or ever will be, the force Harden was at his peak (he'll never be the playmaker that Harden was or even still is today, to say nothing of the volume shooting/scoring). But this had the look of a peak Harden performance, and if you're playing the "it's only one game" card, you clearly haven't been watching Maxey these past three years.
This was a performance in keeping with his immense talent and career trajectory. The Sixers have seen this from him before. A lot, actually. But they've never been able to fully utilize, or benefit from, Maxey's abilities with Harden commanding so much control of the ball and offense.
Doc Rivers, who of course coached Maxey for the first three years of his career, told Bill Simmons as much: "Sam Cassell [former Sixers assistant coach] said it to me all last year: '[Maxey is] ready now, but you know, we've got two guys."
Do you know how you fix a two-guy problem? Get rid of one of them. It's going to require Morey to swallow a little pride and accept what he surely believes to be a lowball offer, but again, it's addition by subtraction if nothing else. Give this team, and Maxey, an honest chance. They deserve it more than whatever it is that Harden thinks he deserves.
As it turned out, Morey didn't have to accept a lowball offer. He waited, and he won big. As did Maxey, who now has an uninhibited opportunity to fully blossom into the All-Star player it's obvious he can be.