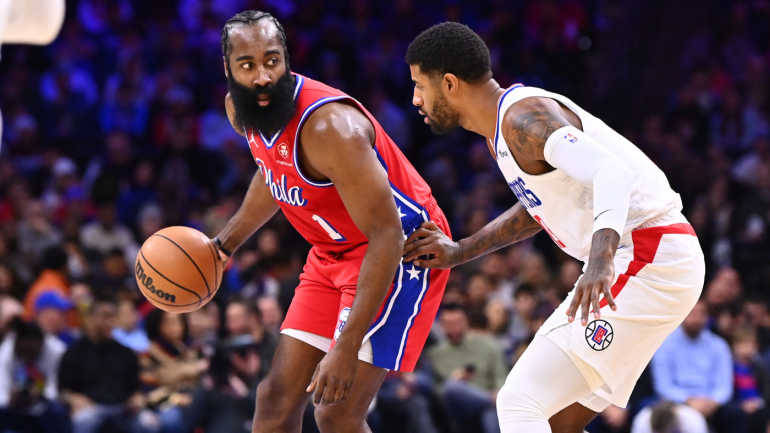 James Harden was reportedly finally traded to the Los Angeles Clippers early Tuesday morning in a deal four months in the making. Interest between the former MVP and the aging contenders was first established in June, when Harden could have become a free agent but chose to opt into the final year of his deal with the Philadelphia 76ers hoping to get dealt to his hometown team.
It took until the beginning of the season, but Harden got his wish. He will now join Kawhi Leonard and Paul George with the Clippers while the 76ers reload around Joel Embiid and Tyrese Maxey. The deal has not yet been finalized and there are still details that need to be confirmed, but for now, here is the trade as it has been reported.
Unprotected 2028 first-round pick (via Clippers)
Two second-round picks (via Clippers)
First-round pick from Thunder
First-round pick swap (via Clippers)
Deals of this magnitude are rare during the season, when matching salary and fitting players within roster limits becomes more difficult. But the Clippers and 76ers have seemingly pulled it off, and now it's time to figure out how both sides did in their massive trade. Here's how both the Clippers and 76ers did in their long-awaited trade.
Clippers: C-
The Clippers did well on the margins of this trade. Getting P.J. Tucker was enormous. Remember the whole "let the power forward defend Nikola Jokic so the center can focus on playing help" scheme the Lakers popularized in the Western Conference finals? No power forward played that part better than Tucker a year ago. Keeping Terance Mann is a win as well. Someone on this roster needs to be able to push pace besides Russell Westbrook, who probably shouldn't be on the team when the playoffs roll around if his history of fitting poorly next to Harden holds up. The Clippers probably made the best version of this trade that they reasonably could have made.
But their grade for the deal as a whole comes down to how much Harden ultimately increases their championship odds. The answer, on first glance, is not very much. The notion that the Clippers needed a point guard to organize their offense in big moments is significantly overstated. In four seasons with Leonard and George on their roster, the Clippers have ranked fourth, second, 10th and third in clutch offense. They made the Western Conference finals three years ago with Reggie Jackson as their primary ball-handler. The Clippers have never really had a ball-movement offense, but Harden's teams never do either. Last season, the Clippers ranked 17th in passes per game while the 76ers ranked 13th. Leonard is the big shot taker on this team. He always will be.
The real value here for the Clippers is Harden's durability. Clipper lineups featuring both George and Leonard ranked in the 91st percentile in terms of offensive efficiency last season, according to Cleaning the Glass. Remove Leonard and you see a sharp decline down to the 43rd percentile. Remove both and the Clippers fell all the way down to the sixth percentile. Leonard missed the entire 2021-22 season and an additional 65 games in three Clippers seasons on top of that. George has missed an average of around 32 games per season as a Clipper. They're never healthy. Harden is an insurance policy against their inevitable injuries. He is still among the NBA's best generators of regular-season offense. Aside from the 2021-22 season in which he was traded, no Harden offense has ranked lower than seventh since 2015.
Of course, Harden can only insulate the Clippers against brief, regular-season injuries to Leonard or George. If either is knocked out for the season or at any point in the playoffs, the Clippers are still out of luck. This is especially problematic in Leonard's case, who has not played in the final Clipper game of any season since the Orlando bubble in 2020. The odds of both Leonard and George making it through six months of regular-season basketball and four playoff rounds is still relatively low.
The Clippers might be better-suited to weather such a loss if Harden solved any of their more tangible issues, but there's little evidence suggesting he'll do that. The Clippers have ranked in the bottom-four in fast-break points in Leonard's last two healthy seasons. Harden's teams have at times fared well on that front, but largely because his front offices have had the foresight to pair him with a faster guard. Philadelphia ranked eighth last season, but had Tyrese Maxey. Harden isn't exactly going to inject pace into the Clipper offense. The Clippers ranked 22nd in offensive movement, according to NBA.com tracking data, but the 76ers ranked 28th. It's not exactly clear what Harden will do when Leonard has the ball. He's never averaged even two catch-and-shoot 3's per game. The Clippers are still going to be a slow, isolation- and pick-and-roll-focused offense.
The Clippers probably needed a significant offensive upgrade to justify what they're giving up on defense here. Harden's foibles on that side of the ball are well-known, but the more pressing issue here is all of the versatility the Clippers sacrificed. They swapped out two rangy forwards that could capably play small-ball center in Covington and Batum for one in Tucker, and, at 38, Tucker is the second-oldest player in the NBA. Leonard and George can defend guards, but are better-suited on wings. That might not be an option given their current personnel. Harden doesn't chase opposing guards. Norman Powell is tiny. Bones Hyland is disinterested. Westbrook can get invested in playing on-ball defense against high-profile matchups, but is inattentive off of the ball and his effort is incredibly inconsistent. There are going to be weak spots to attack here.
And then there are the picks involved here. Yes, the Clippers overpaid to build this team when they gave up the world for George. That's a sunk cost. What gave the Clippers a relatively bright future before this trade was how close they were to regaining control over their future drafts. They owe out picks to Oklahoma City through 2026, but none afterward. In a world in which Phoenix controls none of its picks for the rest of the decade, that's not half bad. Leonard and George are on expiring contracts. If the Clippers hadn't made this trade, they could have subtly pulled the plug on this roster if they'd so chosen, taken their lumps for two years and then been right back in the fray with their full complement of first-round picks and the Los Angeles market at their disposal.
That option is gone now. This is their team. For better or worse, the Clippers are now married to a 32-year-old Leonard, a 33-year-old George and a 34-year-old Harden until the wheels fall off. All three will almost certainly sign contracts next offseason that wind up aging poorly. Their rebuilding window has been pushed back even further now that the 76ers control two of their four picks between 2027 and 2030. There is no escape hatch here. The Clippers have to win a championship to justify this trade. The odds of actually doing so are relatively low. The odds of a very grim period beginning a few years from now are exceedingly high.
76ers: A-
The 76ers were, at best, the third-best team in the Eastern Conference with Harden on their roster. They were the No. 3 seed in last year's playoffs. They were 0-3 in three playoff series against the Jayson Tatum-Jaylen Brown Celtics and lacked the championship pedigree of the newly upgraded Milwaukee Bucks. After back-to-back playoff meltdowns in two postseasons with Harden, it was reasonable to assume that this version of the 76ers were never going to win a championship.
It is also reasonable to suggest that the 76ers have just gone from being the third-best team in the East to being, uh, the third-best team in the East. That's no certainty, of course. But Maxey is averaging more than 30 points this season. He seems more than ready for primary ball-handler duties. They'll benefit from that two-for-one wing swap the Clippers will struggle with. Philadelphia is 41-20 with De'Anthony Melton in the starting lineup since acquiring him last offseason, and he is now presumably a full-time starter. Daryl Morey now has some extra chips to seek out an upgrade if he so chooses. Cleveland, New York and Miami have all underwhelmed this season. There is no obvious challenger to the Milwaukee-Boston Eastern Conference hegemony. At the very least, it's hard to imagine Philadelphia slipping out of the second tier.
The real benefits here are of the longer-term variety. Philadelphia was never going to build a championship team around Harden, but it now has two realistic chances to do so without him in the relatively near future. The likelier path here revolves around 2024 free agency. At this moment, Philadelphia has the capacity to create more cap space than any other team in the NBA. The projected salary cap for next season is roughly $142 million. Embiid is owed $51.4 million. Maxey will have a $13 million cap hold. If the 76ers clear every other player off of their roster as they easily could, they'd be looking at roughly $65 million in space. That's enough for one max player in any salary bracket with plenty of room to spare on supporting pieces.
The quicker path involves turning around and using some of the assets they just received to find an immediate Harden replacement. The Sixers just got two picks from the Clippers, one of which, as we covered, is a very valuable unprotected pick down the line. They can trade their own 2030 pick and offer a couple of swaps on their own picks as well. Toss in some of their new expiring salaries and they have the chips to land someone reasonably significant. No such player immediately exists on the trade market, but history suggests one will become available soon enough. How does Zach LaVine sound as a long-term running mate for Embiid and Maxey?
No matter what they wind up doing with this newfound flexibility, its mere existence is probably a best-case scenario for a 76ers team that was trending down even before this drama. In the grand scheme of things, isn't getting assets for Harden now a better outcome than keeping him and losing in the second round would have been? Isn't this non-championship season better spent spotlighting Maxey as a legitimate All-Star to possible free-agent targets?
If the 76ers had re-signed Harden to a multi-year deal in the offseason or simply kept him and let his contract expire, they may not have had a path to rebuilding a new, stronger contender around Embiid down the line. Now they do. They have a lot of work to do in order to traverse that path, but at least it exists. As ugly as this whole situation was, the 76ers have come out the other side of it in a far stronger position than they would have had they simply kept their aging, declining superstar.