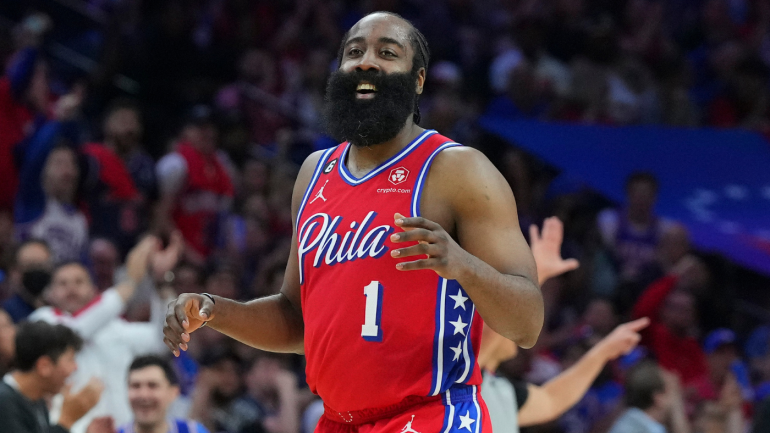 The Philadelphia 76ers are trading James Harden to the Los Angeles Clippers, according to Adrian Wojnarowski. The Clippers will receive Harden, PJ Tucker and Filip Petrusev while the 76ers will receive an unprotected 2028 first-round pick, two second-round picks, a first-round pick swap, Marcus Morris, Nic Batum, Robert Covington and KJ Martin. Another first-round pick will be rerouted to the 76ers from the Thunder, Wojnarowski added Tuesday morning. The 76ers are waiving Danny Green to clear the roster space necessary to make the trade.
The deal ends a saga that began in June, when Harden was an impending free agent. Once it became clear that the Houston Rockets preferred Fred VanVleet with their maximum cap space, Harden had nowhere to go and was forced to opt into the final year of his deal with the understanding that 76ers general manager Daryl Morey would eventually trade him.
That trade came slower than Harden had wanted, and in August, Harden responded by saying at a camp in China that "Daryl Morey is a liar and I will never be a part of an organization that he's a part of." Harden ultimately reported to 76ers camp, but now, he gets the trade he seeks, and, in the process, positions himself for the contract Philadelphia was not ready to give him.
Rather than extending the 34-year-old Harden for the long haul, Philadelphia is planning to generate max cap space in the summer of 2024. To that end, they also have not extended young star Tyrese Maxey, though they will be able to retain him next offseason as a restricted free agent without significantly affecting their cap space. The four players that the 76ers acquired in this deal all have expiring contracts, but Tucker did not. At this moment, the 76ers only have two guaranteed salaries for next season: Joel Embiid and the fourth-year option on Jaden Springer.
The Clippers, on the other hand, are so far above the salary cap that they almost have to retain Harden beyond the season using his Bird Rights. They would have no means of replacing his salary slot if he were to leave for nothing, and the new CBA makes it significantly harder to sign-and-trade him elsewhere.
Of course, the Clippers wouldn't be making this trade if they didn't expect to keep Harden. Ever since they landed Kawhi Leonard and Paul George in the 2019 offseason, they've sought a traditional point guard to make their lives easier on offense. They've tried just about every low-end option from Reggie Jackson to Rajon Rondo to Russell Westbrook, but nobody has worked. Harden, who led the NBA in assists last season, would immediately become the best playmaker the Leonard-George duo has ever had, and with the Clippers set to open a new arena in time for the 2024-25 season, they could now potentially bring this star trio into their new building.
But the 2024-25 season is a year away. The goal is to win the championship right now. With Harden, the Clippers would be right back in the mix for the Western Conference crown. The 76ers, meanwhile, will now attempt to regroup and reload before reigning MVP Joel Embiid starts to get antsy. Neither Harden nor Simmons were suitable championship co-stars for Embiid, and now, it's up to Morey to get it right on the third try.