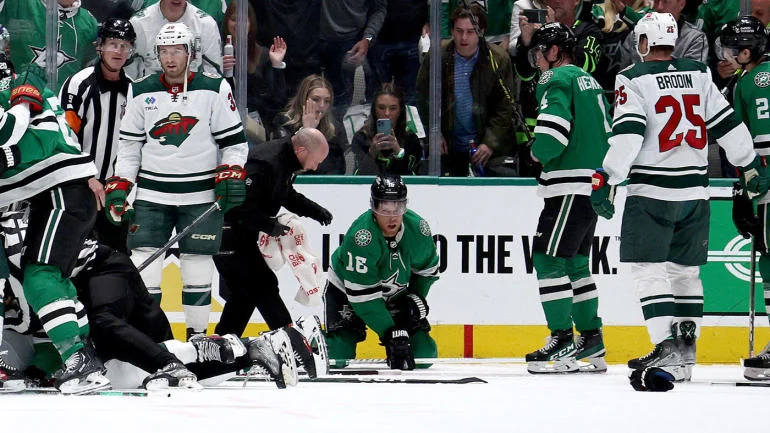 The Dallas Stars are going to be without Joe Pavelski for at least the next two games in their opening-round series against the Minnesota Wild. The Dallas center isn't traveling with the team for Games 3 and 4 as he remains in concussion protocol after being on the receiving end of a brutal hit, courtesy of Wild defenseman Matt Dumba, in Game 1.
Stars head coach Pete DeBoer said Thursday that he had "lots of hope" that Pavelski can return to the ice at some point during the first-round series.
"He's getting better every day," DeBoer said, according to TSN. "He was at the game last night, just not coming on this trip."
During the second period of Game 1, Pavelski, 38, was lit up by Dumba on a play behind the net. Pavelski immediately left the game after the hit, one that left Dumba with a two-minute minor penalty for roughing. After a review of the play, he wasn't given any major penalty.
"To be honest, I thought it was a clean hit. I figured (the refs) were going to see the same. Shoulder on shoulder," Dumba said following Game 1. "I don't even know why I got the roughing, probably because I was just in the box already."
DeBoer stated after Game 1 that Pavelski's head hit the ice when he fell after the hit.
"We have the best officials in the world. They called a five, they reviewed it, which is the right thing to do. If they reviewed and decided it wasn't a bad hit then, you know, I guess it's not for me to argue with that," DeBoer added. "They got to look at it at multiple different angles and that was the decision they made, so we've got to live with that."
The Stars are being extra cautious with Pavelski, as he does have a history of concussions throughout his length career. Pavelski didn't play in Game 2, but the Stars rebounded in a big way with a dominant 7-3 win.